CATEGORIES
Detective History
True Detective Magazines
Forensic Science
Frauds and Swindles
Gangsters and Mafia
Hoboes
Murder Cases
Police
Prisons and Prison History
Rare and Choice
Wanted Posters
Western Outlaws

---
Gambling (Inquire direct)
---
Patterson Smith Series Publications
---
ARTICLES
Literature of Fraud
and Swindling
---
Links to useful true-crime sites
---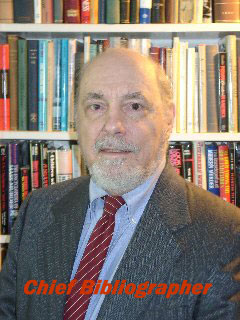 I am an antiquarian bookseller specializing in true crime, gambling, and related subjects. I deal in out-of-print and rare books, magazines, and ephemera in the categories shown at the left and in allied subjects. My firm also publishes the Patterson Smith Series in Criminology, Law Enforcement, and Social Problems.

I have been dealing in this material for fifty years and have a vast inventory. As of this time only a tiny fraction of my stock is available on the Internet. However, I will be pleased to quote without obligation from my unlisted inventory. If you have questions about sources in criminal history, I will try to assist (even if I don't have the material to sell you).

Terms: Shipping is extra. I can ship via USPS and UPS. If you tell me your location, I can quote options available. Any used book is returnable if not satisfactory.

For payment I accept a money order, MasterCard, Visa, PayPal and, in most cases, a personal check with phone number. I will invoice institutions and customers known to me.
To order or inquire about any item:
Please cite abbreviated author/title and our inventory number (shown in green). Contact me as follows:
email: mail@patterson-smith.com (if concerned about emailing credit card information, divide it into two e-mails).
phone: 973-744-3291